Kmart To Close After 53 Years. Thursday June 1, 2017.
Our local Kmart will close in July. It opened here in 1964. The Blue Light Special was born 1965. Walmart surpassed Kmart around 1990. In 2011 a 1.5-acre mistake caused Hillsdale Drive to take 110 parking spaces from Kmart with 6 years remaining in the lease.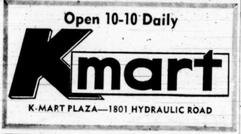 When Kmart opened, it was on the northern edge of town. 29-North was wilderness until the Rio Road Suprette convenience store. Sears and JC Penny at Fashion Square are expected to close. County courts may move from the City back to the County in these spaces. The suburban mall was disapproved by the City twice, then moved across the county line.
Not only have the places changed. Society has changed. Five-and-dime stores once lined the Main Streets of America. Now they're pushed out to the surburbs and rural areas. But the concentration of poverty remains in the cities. It's another symptom of social instability.
Kmart split off from McCrory's. John Graham McCrorey opened his first store 1882 Scottdale, Pa. And Sebastian Spering Kresge, as a traveling salesman for all 19 Woolworth stores, partnered with McCrory 1897 to buy a store in Memphis, then Detroit. In 1899 the two split and the first SS Kresge store was in Detroit. The first of 18 Kmarts opened March 1, 1962. McCrory dropped the "e" in his name to save money in the signs. Imagine how much was saved by shortening SS Kresge to "K".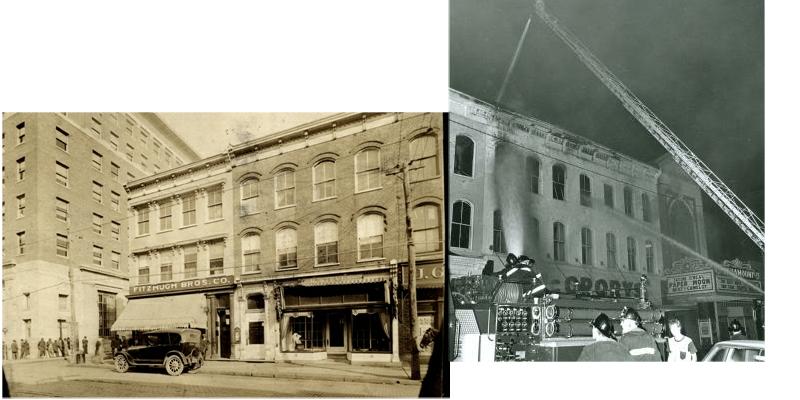 McCrory's department store becomes Central Place after a massive fire Aug. 9, 1973. Six months later the downtown pedestrian mall was illegally approved with 40% of City Council voting yes.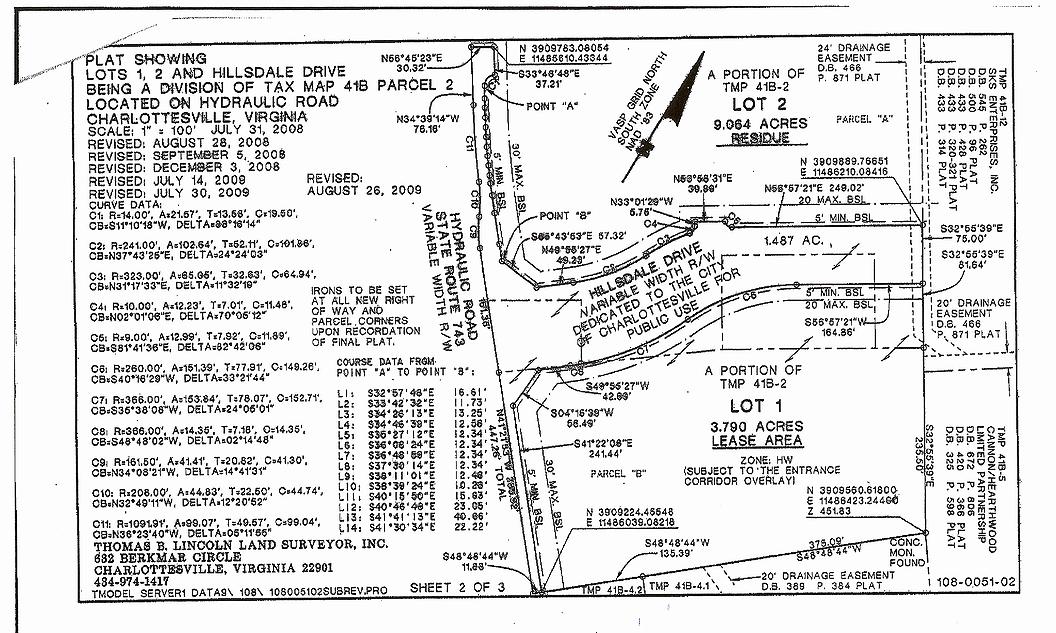 Council invokes eminent domain for Hillsdale dedication, May 2, 2011. Kmart loses 110 parking spaces, 1.5 acres from 9-acre parcel, or one sixth of leased area. Assessed over $10 million, City Attorney acting as landlord's attorney, offers $25,000 for the remaining 6 years.
According to attorney Craig Brown, Kmart does not own the property. Meadowbrook Creek owns the Kmart property as well as the first phase of Hillsdale Drive and Whole Foods. The road is under a public use now. Kmart rents the store and parking lot and has 6 or 7 years left on the lease.

Brown said the condemnation is urgent because the city wants to dedicate the private road as a city public road. But why? Why canít this private road be an easement for the public use as a public road? Easement was good enough for the storm drain.

The owner Meadowbrook Creek had intended to give the land and road to the city anyway as a proffer for approval of the plan. But they built the road too far into Kmartís parking lot. Itís not a property rights issue; itís a lease dispute between Kmart and the property owner. Council has now made it a property rights issue.

Meadowbrook Creek will reimburse the city. So in essence Council is asked to nullify a landlord-tenant agreement between Kmart and its landlord. In return the city will have more public land not paying taxes.

Is this action necessary? No. The property owner agrees to the perpetual public use.
Is this a last resort? No. If Council postponed this item indefinitely, the inaction would have no effect on anyone. The property would continue as a public road.
Is fair market value offered? No. According to Brown a few years ago, fair market value is a sale where neither the buyer nor seller is under any coercion. If Kmart also had the power of eminent domain, then it might be fair.
Have all other options been exhausted? No, not even close. But the action is urgent because they want to dedicate the street. So a dedication is now a justification for eminent domain?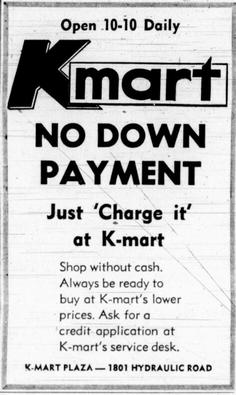 The City's online real estate database disagrees with news media and the City Council meeting. Apparently Peyton Associates Partnership has been owner at least since 12/27/1990 at $0.00 purchase price. Meadowbrook Creek sub-leases to Kmart. The online viewer agrees with Daily Progress online archives that Kmart was built 1964 while ads began appearing late 1964.
"Kmart to close in July amid planning for Hydraulic-29 area" by Chris Suarez. May 8, 2017, Daily Progress. No mention of any Kmart history or the 2011 eminent domain abuse.
When the City Becomes Involved in Private Transactions. National Eminent Domain Watchdog archives the missing C-ville Weekly article.
An all too frequent problem of government interference in private land transactions is evident in the article below from a Charlottesville, Virginia newspaper. When a city intervenes in private affairs between buyers and sellers or landlords and tenants, this creates an unfair imbalance in arms-length negotiations between parties. The party with the government on its side can use the threat of condemnation to extort the non-favored party, making it difficult to negotiate a fair price for property.

c-ville.com

But last spring, Kmart Corporation filed a lawsuit against Meadowbrook Creek that claimed construction of the grocery store and Hillsdale Drive Extended occurred within the boundaries of Kmartís property, and thus breached the lease agreement between the two companies. The 1991 lease states that the landlord, Meadowbrook Creek, ďwill not erect any buildings or other structures on the land.Ē Alan Taylor, a vice president at Meadowbrook parent company River Bend Management, previously told C-VILLE that Kmartís claims were ďunfounded,Ē and did not return a request for comment by press time. River Bend Management is the real estate company of developer and Dave Matthews Band manager Coran Capshaw.

Ultimately, Charlottesville Circuit Court Judge Edward Hogshire denied the injunction to stop construction. Kmart attorney Miles Dumville says a damages lawsuit against Meadowbrook is still pending. ďCurrently there is no trial date, and the parties are trying to work things out by agreed resolution, but that hasnít happened yet,Ē he tells C-VILLE.

Brown says Meadowbrook Creek offered to purchase the portion of the land within Kmartís lease, but was unsuccessful. According to Brown, while the portion was appraised at $19,991, Meadowbrook made an initial $20,000 offer. When Kmart didnít respond, Meadowbrook offered $25,000. Due to litigation between the two businesses, the City of Charlottesville stepped in and made the same offer, a legal requirement for condemnation proceedings.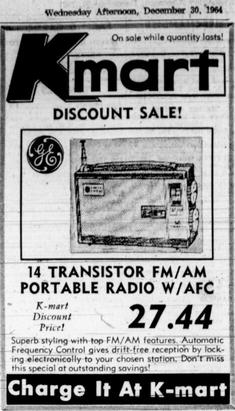 CITY OF CHARLOTTESVILLE, VIRGINIA
CITY COUNCIL AGENDA May 2, 2011
VIDEO May 2, 2011
– This Resolution –
Background: On December 4, 2000 City Council passed a Programming Resolution requesting the Virginia Department of Transportation (ďVDOTĒ) to establish an urban system highway project for the construction of Hillsdale Drive Extended from Greenbrier Drive to Hydraulic Road, a distance of approximately 4,500 feet. In October 2005 and October 2007 this extension of Hillsdale Drive was identified by City Council as a transportation improvement priority during VDOTís funding allocation process, and the road project is currently a part of VDOTís approved Six Year (FY 2008 Ė 2013) Improvement Plan for the City. Hillsdale Drive Extended is also identified in the Charlottesville Albemarle Regional Transportation (ďCHARTĒ) 2025 Plan, as approved by the Metropolitan Planning Organization Policy Board. The City has received state funding for preliminary engineering for the road under the Urban Construction Initiative (ďFirst CitiesĒ) Program, but state funding for right-of-way acquisition and construction is not anticipated before FY 2015 at the earliest.
The first phase of Hillsdale Drive Extended, from Hydraulic Road to the rear of Parcel 2 on City Tax Map 41 B (the parcel where Kmart is located, also known as 1801 Hydraulic Road) has been built by Meadowbrook Creek, LLC, the developer of the new Whole Foods Market. The Charlottesville Economic Development Authority, with funds provided by the City, agreed to reimburse Meadowbrook Creek for the costs of the road project, up to a maximum of $2 million. In return Meadowbrook Creek agreed to construct the new road in accordance with all city and state standards, and to dedicate the road to the City as a public right-of-way.
Last year, after Hillsdale Drive was under construction, Kmart Corporation filed suit against Meadowbrook Creek, alleging that the road and related improvements were being built on property that is a part of Kmartís lease. Kmart is a subtenant to Meadowbrook Creek, who holds a long term ground lease on the entire site. The Court declined to enjoin construction of the road, and it has now been completed in accordance with all city and state standards. The lawsuit between Kmart and Meadowbrook Creek remains pending in Charlottesville Circuit Court.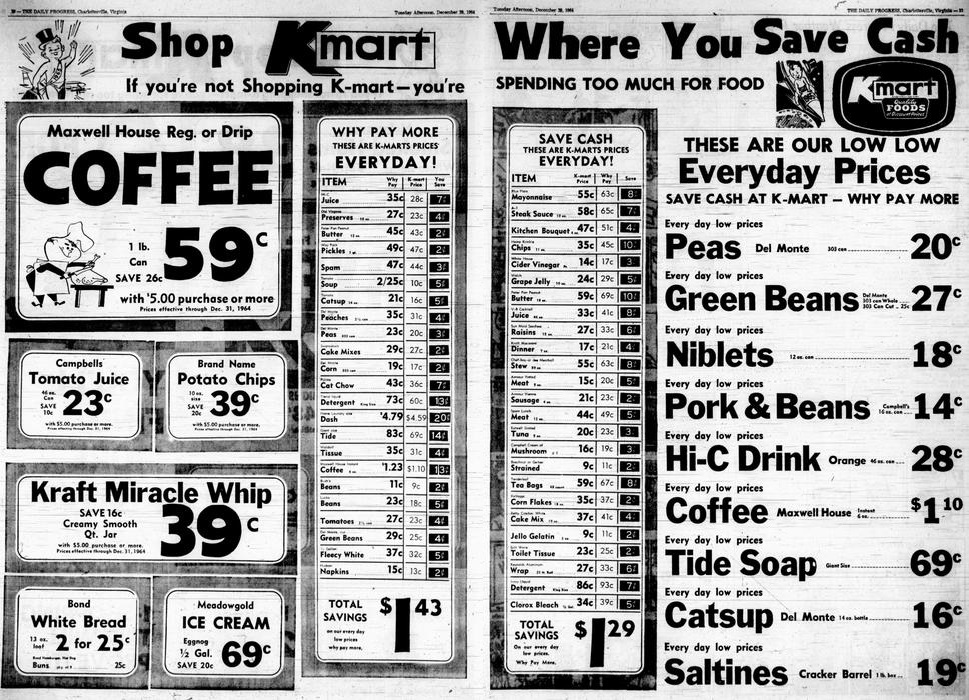 Discussion: Hillsdale Drive cannot be dedicated to the City as a public right-of-way if any portion of it is still within the area that is subject to Kmartís lease. Meadowbrook Creek has attempted to acquire that portion of Kmartís leasehold interest, but has not been successful. An appraisal of that portion of the lease indicates that it has a fair market value of approximately $20,000. At the request of the developer, the City also made an offer of the appraised value to Kmart, so that Hillsdale Drive could be dedicated and accepted as a public street. As of April 26, 2011 Kmart had not responded to the Cityís offer.
City staff is seeking City Councilís approval to institute a condemnation action to acquire title to that portion of Kmartís lease that is within the area where the new Hillsdale Drive right-of-way and related improvements have been constructed. State law provides that condemnation proceedings must be authorized by the governing body of the locality after a public hearing. While City Councilís adoption of the attached Resolution will authorize the filing of a condemnation action in Circuit Court, we will remain open to further discussion with Kmart should they wish to avoid litigation. [...]
A RESOLUTION AUTHORIZING THE INITIATION OF CONDEMNATION PROCEEDINGS TO ACQUIRE THAT PORTION OF THE LEASEHOLD INTEREST OF KMART CORPORATION AT 1801 HYDRAULIC ROAD (CITY REAL PROPERTY TAX MAP 41B, PARCEL 2), CONSISTING OF UP TO APPROXIMATELY 1.487 ACRES AND BEING THE PORTION OF THE LEASHOLD ESTATE THAT IS WITHIN THE AREA WHERE THE NEW HILLSDALE DRIVE RIGHT-OF-WAY AND RELATED IMPROVEMENTS HAVE BEEN CONSTRUCTED. [...]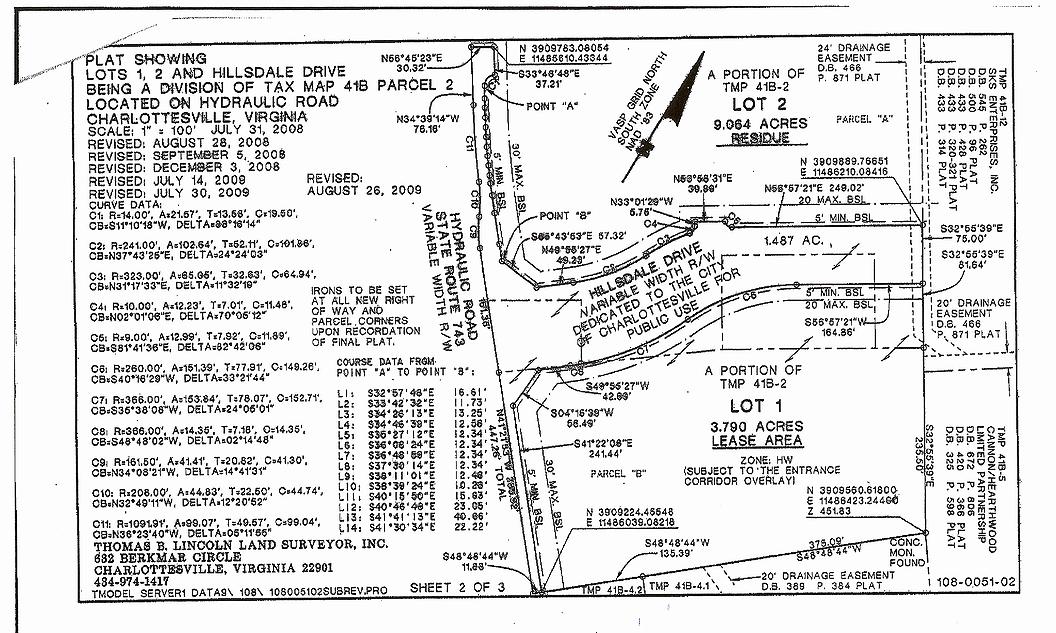 WHEREAS, the City has made a bona fide offer to Kmart Corporation of the appraised fair market value of the portion of the leasehold interest that is needed for the dedication and acceptance of Hillsdale Drive Extended and related public improvements, which offer has not been accepted.
NOW, THEREFORE, BE IT RESOLVED by the Council for the City of Charlottesville, Virginia that the proposed public use of the approximately 1.487 acres shown on the attached plat as a public street is hereby approved, and the City Council hereby states that the right, title and interest, including that portion of the leasehold interest held by Kmart Corporation, acquired pursuant to this Resolution shall be used as a public street and related public improvements to be owned and maintained by the City of Charlottesville.
BE IT FURTHER RESOLVED that the City Council hereby finds that the acquisition of the property as shown on the attached plat is necessary for the purpose of establishing a new public street and making related street improvements to Hydraulic Road, and to provide for the transportation improvements described herein, and the City Council hereby directs that the right, title and interest to the property, including the leasehold interest held by Kmart Corporation, as shown on the attached plat be acquired through the filing of condemnation proceedings. Nothing herein shall be construed as prohibiting the voluntary acquisition of the necessary property interest(s) through further negotiations with the landowner. [Owner voluntarily requested the condemnation to nullify the Kmart lease agreement.]

---
Blair Hawkins | Charlottesville, Virginia | healingcharlottesville@yahoo.com | Résumé | Top