---
Surgery Confirmed for 1:15 pm Tue. Jan. 16. Tuesday January 9, 2018.
My mother will be my Angel and drive from surgery back to the motel for 2-night stay.
Surgery Scheduled for Tue. Jan. 16, 2018. Wednesday December 20, 2017.
Check in day before Dr. Kravitz office on Mon. Jan. 15 between 1 pm and 4 pm. Paid the $75 for initial consultation. Remaining surgery cost is $1,900. Office at 11119 Rockville Pike, Suite 105, zip 20852. South of Rockville on Rt. 355.
Stay at a motel. The Sleep Inn has a shuttle.
Afternoon surgery Tuesday. Montgomery Surgery at 46 W. Gude Drive.
If I go alone, it's $88 for an Angel to drive me back to the motel. I would have to stay another night. Leave Wednesday.
If I pay a driver to accompany me, we can travel home after the surgery.
From Charlottesville, drive North on US-29, East on I-66, North on I-495, North on I-270 split or Rt. 355.
From doctor, North on 355, West on Gude Dr (clinic SW corner), continue West on Gude past I-270, Right on Research Blvd to Sleep Inn.
---
Local Hernia Surgery Cost Prohibitive. Thursday December 14, 2017.
Hernia Center – Sentara Charlottesville. General descriptions.
Submitted online Contact Us form. Prompt e-mail response. What is the self-pay price of hernia surgery?
Call 434-654-8177. Carol.
Call 540-654-7377. Debra. Surgery in the HOSPITAL $12,500 for 1.5 Hours Code 49505.
Call 434-654-5000. Stephanie. It's $8,800 in the Sentara Outpatient Hernia Center.
I did not bother to get an estimate from University of Virginia Hospital.

New Choice Health shows prices from $1,450 to $3,400. Shows 3 locations in Charlottesville: UVA, Sentara ($12,500), Sentara outpatient hernia center ($8,800). But these clinics are not part of New Choice Health's network of providers.
But Rockville, Maryland is in the network. Their price estimate is $1,900. Affordable Hernia Surgery. The New Choice operator called me when I requested an online referral.
Send a form request to the Rockville clinic and a link to this page.
---
Moles removed. Prostate exam. Blood lab results. Wednesday December 6, 2017.
2 tags removed. Left armpit & right groin.
Hotspot on face healing as normal.
Pre-op lab results from last week's blood tests.
Page 1 | Page 2

No Hepatitus C.
Elevated prostate signal. Exam is normal.
Slight anemia – Iron deficiency.
Elevated signal for sugar.
Blood pressure is good.

Move forward with planning for hernia surgery. Contact the clinic directly for out-of-pocket. Refer to my physician for medical records, confirmation of diagnosis. The operation is 3 incisions, one for the camera, the other 2 for the instruments to install the mesh shield.
---
UPDATE Hotspot Frozen. Hernia Confirmed. Tuesday November 28, 2017.
Successful doctor's appointment. (1) Hotspot on face is frozen off. (2) Hernia is confirmed. I can live with it but surgery is recommended. Will order the hernia belt from Amazon. Was referred to Northridge for blood work to include Hep C and test for prostate cancer. Price $50 to $75 to be billed to my new primary physician – Ivy Family Medicine – chosen because they had actual prices listed online.
Next appointment 12-6-2017 to discuss blood results. To have 2 tags removed – mole under left arm pit and right groin where skin rubs...included in the $60 per month for 12-month obligation.
To discuss hernia surgery possibilities. Doctor mentioned nearby option for $3,500. Would have to confirm validity of the $1,900 Rockville, MD clinic. More research and other options.
I still need to cancel the appointment at UVA Dermatology made Oct. 3 for Dec. 18. (Cancelled Dec. 5. Phone 434-243-3675. uvahealth.com/appointments)

---
UPDATE Medical. Hotspot on Face + Hernia. Monday November 27, 2017. (Comment)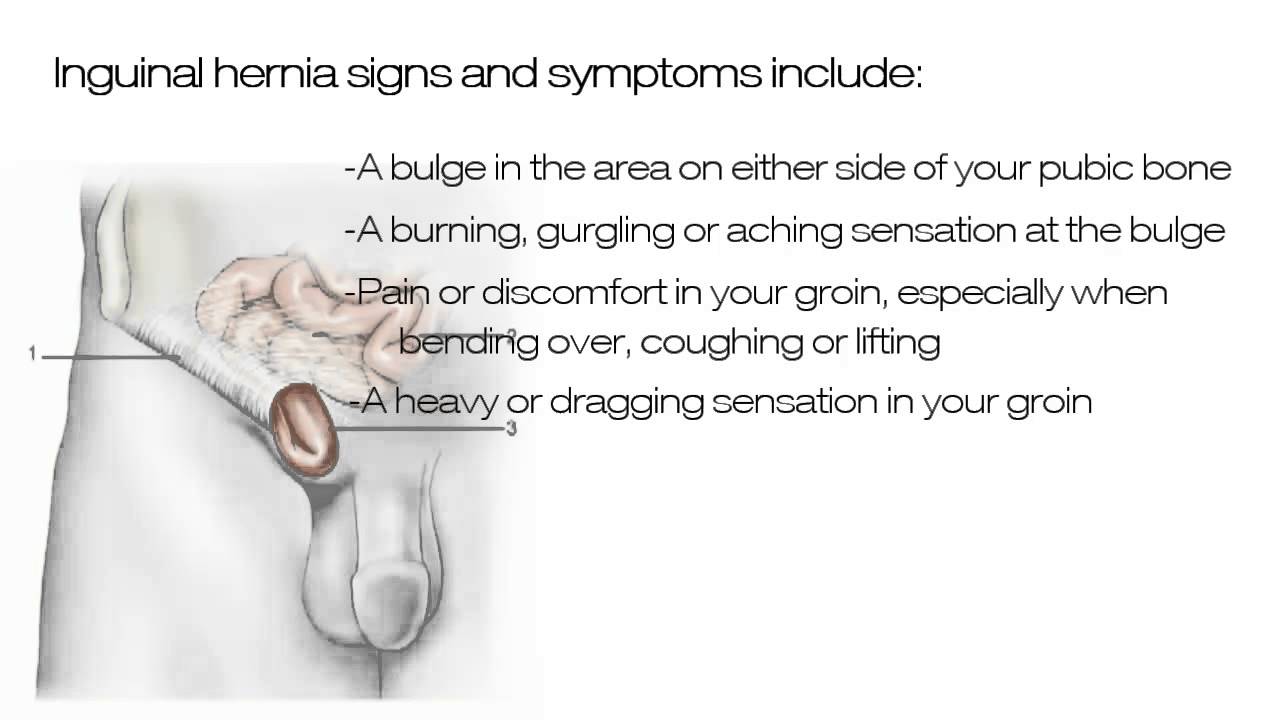 Skin Hotspot on face the size of dime to freeze off with liquid nitrogen. A 30-second procedure conducted twice in 7 years at UVA Primary Care Dermatology. The first of total 3 visits involved my feet described below. When I was a UVA employee and had insurance, they made the appointment for the next day. As a regular person, the clinic made the latest appointment for 10 weeks in the future for Dec. 18. I'm paying out-of-pocket and hope to find an alternative referral.
The hernia has 2 phases.
PHASE 1: I think heavy lifting caused it on April 7 but only noticed it the day after during bowel movement. If I leaned forward elbows on knees and pushed...something moved like a flap. Stop pushing...it flops back. If I sit up straight and push...no sensation. Hoping it would go away, I ignored it.
PHASE 2: Two weeks ago it moved forward where you can now see it, touch it, move it around, push it back in, sometimes squeeze out gurgles of gas. Only now was there soreness or bruising. More gurgling activity and parking of gas at the hernia. Hernia must be connected to anus because sensation of passing gas through both at same time (once). Family history (father, brother) of hernias. The patient has experienced hemarhoids and colonoscopy about 15 years ago (took forever to pay for it). Hernia is now beginning to affect sex for fear of bumping it and being self-conscious.
SOLUTION: Have an appointment 11-28-2017 with Ivy Family Medicine - Pricing Page. Consultation: Is it a hernia? What does the doctor recommend? Referral possibly to Clinic in Rockville, MD for $1,900 specializing in hernias. The herniatic mesh shield must NOT be Polyethelene TYVEK material, which I believe caused the skin reaction on my feet in 2010.
Refresh this page for the latest on my personal health issues. If Katie Couric can have a colonoscopy on national TV, surely I can have a convenient page to communicate to my doctor. Very few people will ever stumble on this page. www.blairhawkins.net/posts/Medical/. Also More on hernias.

UPDATE: The clinic at Preston and Rose Hill is Neighborhood Family Health Center.

---
UPDATE Skin Cancer Screening. Tuesday October 3, 2017. (Comment)
Charlottesville Communnity-Based Outpatient Clinic. Veterans Affairs. 590 Peter Jefferson Parkway, Suite 250, 2nd Floor. 434-293-3890. Eligibility Page. 804-675-5434 Richmond office. Health Care Application Process. Purpose of bureaucracy is to discourage people from accessing the service.
Still intend to look for the possible clinic at Preston & Rose Hill. The (not)Free Clinic is also on Rose Hille Drive.

Janelle 434-654-8401 called me back. Martha Jefferson has no dermatologists; they are separate entities co-located at the hospital. The skin cancer screening is superficial, recommends an appointment for everything. Does not know about the Preston Clinic. Told me about a local veterans clinic.
Email from Martha Jefferson. Accounting Office to apply for Health Trust indigent care 434-654-8177. Cancer Center 434-654-8401.

Marth Jefferson Hospital transferred the call 5 times until it reached a dead end voice mail. I left a message in addition to Sunday's online message.
UVA Dermatology scheduled an appointment for December 18 although my last visit was 2 years ago and in 2010. But I don't have insurance anymore so service is not prompt.
Nobody knows about a cancer clinic on Preston & Rose Hill. I may go there later today in person and try to find it.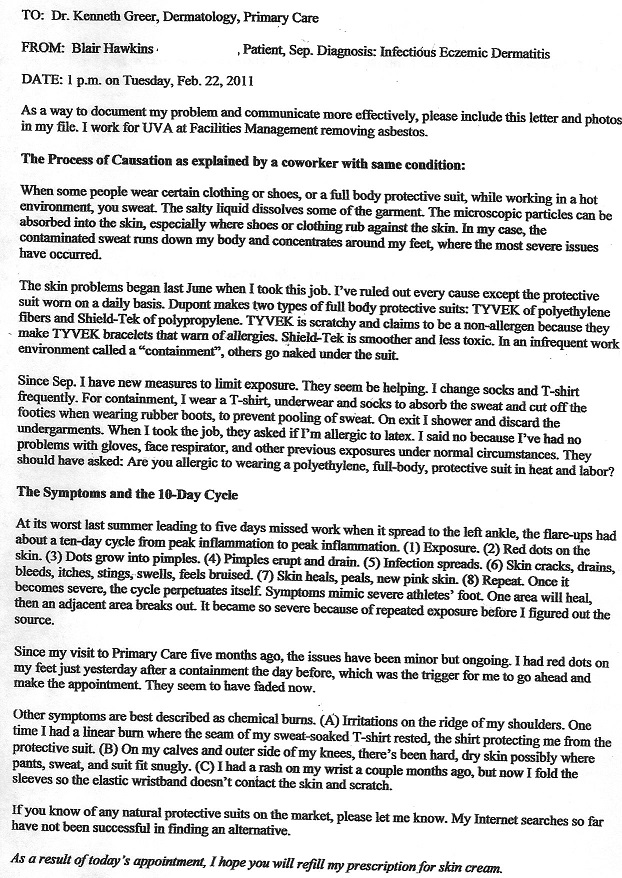 Medical Possible Skin Cancer. Sunday October 1, 2017.

Pictures below are from 7 years ago. Current conditions are minor but persisting much longer, don't show up well in photos. This page is to document my story and serve as a link to photos and resources. And maybe inspire others to seek a screening. If the clinic is a scam and not really helping people, I will let my readers know.
Online message to Martha Jefferson Hospital. Will follow up. 800-SENTARA (736-8272).

Need skin cancer screening. Indigent patient.

(a) hotspot on face
(b) crusty bumps on forearms
(c) white bumps on feet... in 2010 had Infectious Eczemic Dermatitis. Allergic reaction to workplace protective suits (polyethylene) started June, by September very serious, Dr. Kenneth Greer (UVA primary care dermatology) said it would not go away without medicine and more serious than I thought. UVA Facilities Management denied it. Had to use my own health insurance. In more recent years, I couldn't get medical treatment because my deductible went to $5,000 per year before insurance kicks in + rising premiums + rising copay. I have no insurance now since April. I need to make an appointment but don't want to because I have no money. It's a ridiculous situation.
---
Blair Hawkins | Charlottesville, Virginia | healingcharlottesville@yahoo.com | Résumé | Top
Home | Blair's Blog | Facebook | Youtube | TV10 | TV10 Archives | Weather